300 SLR
Posts: 1753
Joined: Wed 20 Jul, 2005 12:54 pm
Model you own: w123
Region: Victoria
Location: Melbourne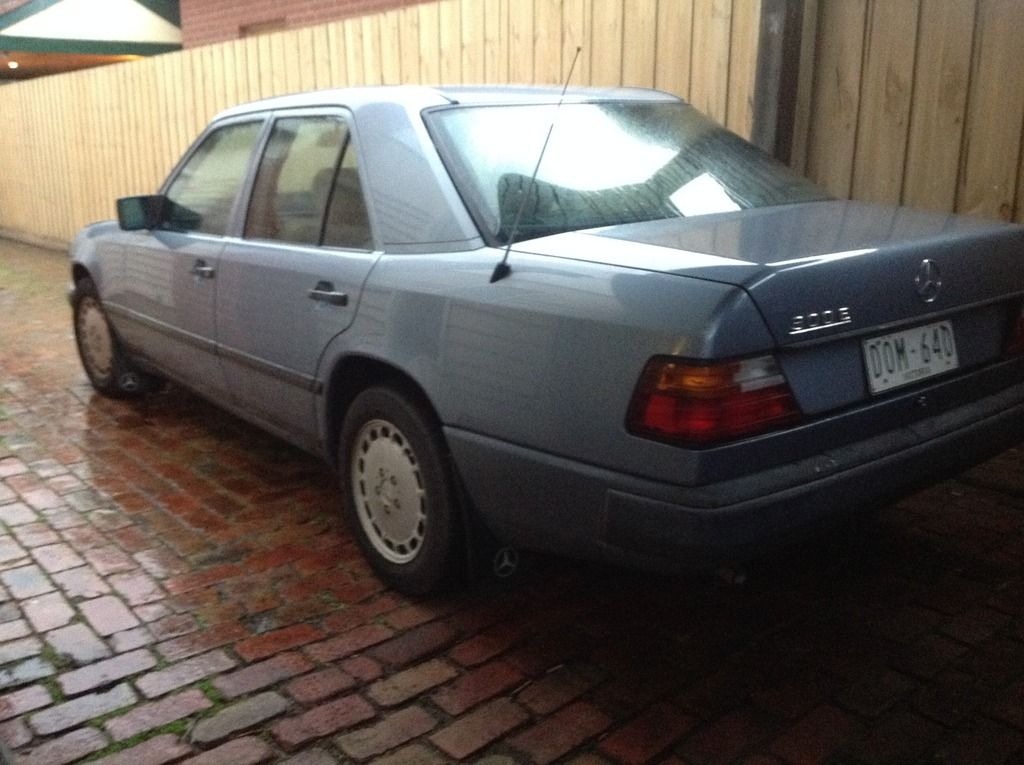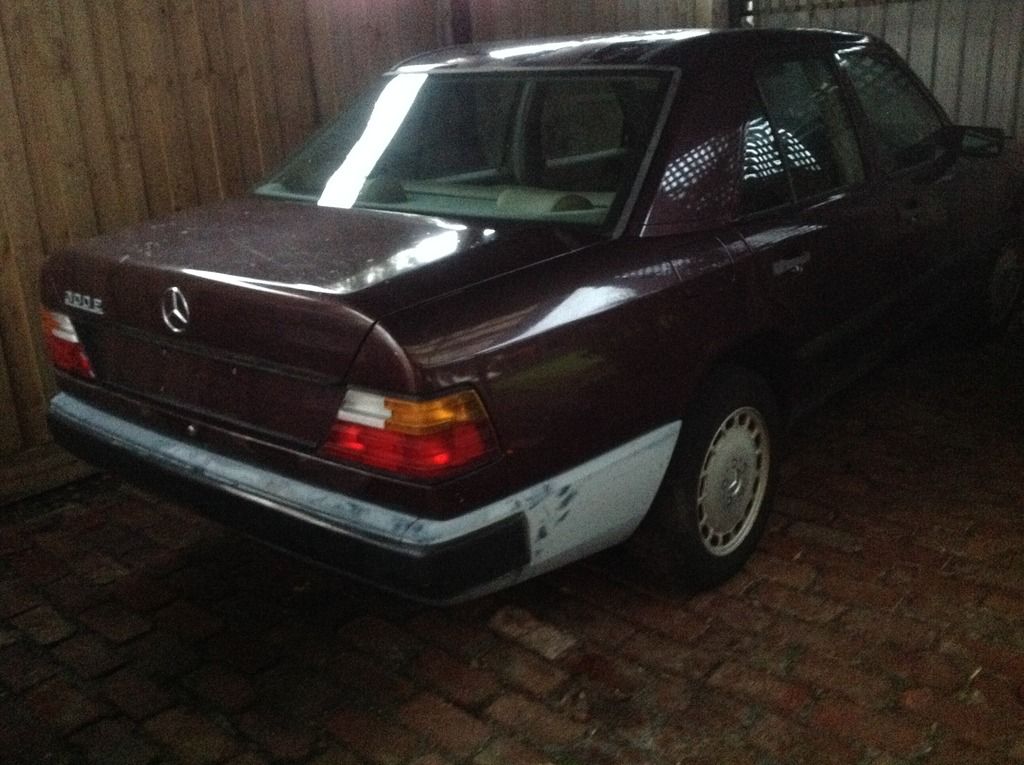 Current Fleet
1985 C123 280CE Midnight Blue with blue MB Tex (249k klms...Daily Driver 2010- )
Past Benzes:
1972 W108 280SE 3.5 White (2002-2003 project sold to fellow OzBenzer)
1971 W108 280SE 3.5 White (1999-2006 Unmolested original & sadly missed)
1987 S124 230TE Diamond Blue (2002-2007 Family cruiser)
1983 W126 280SE Champagne 106k Klms (Custodian in 2013)
1969 W113 280SL Champagne (Custodian in 2000)
1988 W124 300E Diamond Blue (2016 project sold to fellow OzBenzer)
---
OZBENZ Admin
Posts: 3570
Joined: Wed 07 Feb, 2007 9:17 am
Model you own: w111
Location: Adelaide
Nice pair! So what's the story with the blue one? What parts does it need to get back on the road?
David
1967 W111 230S - Horizonblau




1965 W110 190c - Mittelrot


1967 W110 200D - Weiss (work in progress)
+ other classics
---
SLS AMG
Posts: 2913
Joined: Mon 10 Apr, 2006 12:47 am
Model you own: w107
Location: Weinheim / Germany
Contact:
Congrats! But why two?
The blue one is the exact colour, that my father got for a test drive in 1985 just when it came out. I remember driving with him and I had the pleasure of driving with this "rocket". Remember, a cW of 0.30, so a really fast car. It was the first time I was over 230 km/h ... 21 years old
He got one at the beginning of 1986, one of the first ones with cat here in Germany. As the fuel stations were quite rare with the unleaded fuel in those days, it required planning when you drove ...
So is it your new daily driver?
Best regards
Thomas
---------------------------------------------------------------
1967 W111 250SE Cabriolet, horizon blue
1973 W115 220D 5.0 Pick-Up Argentina, solar orange, work in progress 2017-2020
1986 R107 500SL, arctic white, the midlife crisis viagra replacement
2007 R171 SLK350, calcit white
2019 W222 S560, ruby black, comfy cruiser
---
300 SLR
Posts: 1753
Joined: Wed 20 Jul, 2005 12:54 pm
Model you own: w123
Region: Victoria
Location: Melbourne
pastelgrey300D wrote:Nice pair! So what's the story with the blue one? What parts does it need to get back on the road?
The story is that at work about 10 days ago, a site shop steward was admiring my CE and told me his next-door-neighbour (in Riddells Creek, about 1 hour north from where I live) had 2 x Benzes of similar age... The photo exchange occurred that night, a Friday by good chance, so I advised SWMBO, after a couple of 'champers-Pats' that these cars were available for a song.....so the CE was driven north the next day to show that the cars were going to a good home...
The Diamond Blue (with 251k klms) one was the PO's pride and joy, but met 2 x small 'roos on the Calder Hwy a couple of years ago. RACV were to repair the car, but the PO, being a truckie (who BTW drives to Wagga Wagga and back every day!) decided to take the $$$$. The 'Roos must have come-off second best, as the only damage is to the headlights, bumper and bonnet...even the grille is undamaged.
P.O then bought the Maroon/Burgundy one (with 257k Klms) which was a hail-damaged auction buy, but little was ever done except a few parts removed, until I came along....
A few parts have gone astray, so having shaken hands, I drove like mad across town in the CE to Pick-A-Part Kilsyth, where I had seen a Diamond Blue car a few weeks back to source:
- the seats from the blue car were used in some other project, so it currently has the other car's Cream leather seats (so a mint pair of blue leather pair were bought at P-A-P on sale for $50..)
- front r/h guard has been partially cut-off (a diamond blue guard also bought at P-A-P from same wreck for $60)
- the Maroon car has had engine&tauto. removed, but I will get the engine plus a lot of other parts in the coming weeks
I have pretty much all I need...the spare on the Blue car, still has the original dealer sticker, stuck to the tyre tread...definitely worth the effort.
So w/e just gone, I picked up the Maroon one on Sat and Blue one yesterday... so the plan is to put the Blue one back on the road, then sell-off all the spares and other body...watch this space..
Current Fleet
1985 C123 280CE Midnight Blue with blue MB Tex (249k klms...Daily Driver 2010- )
Past Benzes:
1972 W108 280SE 3.5 White (2002-2003 project sold to fellow OzBenzer)
1971 W108 280SE 3.5 White (1999-2006 Unmolested original & sadly missed)
1987 S124 230TE Diamond Blue (2002-2007 Family cruiser)
1983 W126 280SE Champagne 106k Klms (Custodian in 2013)
1969 W113 280SL Champagne (Custodian in 2000)
1988 W124 300E Diamond Blue (2016 project sold to fellow OzBenzer)
---
300 SLR
Posts: 1753
Joined: Wed 20 Jul, 2005 12:54 pm
Model you own: w123
Region: Victoria
Location: Melbourne
Guys,
I have tonight collected the 2nd 12v M103 engine (with 287k klms) and numerous 124 parts, so if all goes to plan this w/e and the Diamond Blue one finally starts, I will then be parting-out the 2nd car, so let me know if you need anything before I dump the 2nd cars body (over the coming weeks.... )
Current Fleet
1985 C123 280CE Midnight Blue with blue MB Tex (249k klms...Daily Driver 2010- )
Past Benzes:
1972 W108 280SE 3.5 White (2002-2003 project sold to fellow OzBenzer)
1971 W108 280SE 3.5 White (1999-2006 Unmolested original & sadly missed)
1987 S124 230TE Diamond Blue (2002-2007 Family cruiser)
1983 W126 280SE Champagne 106k Klms (Custodian in 2013)
1969 W113 280SL Champagne (Custodian in 2000)
1988 W124 300E Diamond Blue (2016 project sold to fellow OzBenzer)
---
B Class
Posts: 20
Joined: Wed 18 Feb, 2015 1:42 am
Model you own: w124
Location: Brisbane Australia
G'day Markb! You still have some body parts for sale of this W124?

Sent from my GT-N7105 using Tapatalk
---
300 SLR
Posts: 1753
Joined: Wed 20 Jul, 2005 12:54 pm
Model you own: w123
Region: Victoria
Location: Melbourne
crazycrowbar wrote:G'day Markb! You still have some body parts for sale of this W124?

Sent from my GT-N7105 using Tapatalk
Sure do, let me know what you need as I have a spare body, from which I will only use the bonnet, front lights and bumper, the rest is all pretty much straight
Current Fleet
1985 C123 280CE Midnight Blue with blue MB Tex (249k klms...Daily Driver 2010- )
Past Benzes:
1972 W108 280SE 3.5 White (2002-2003 project sold to fellow OzBenzer)
1971 W108 280SE 3.5 White (1999-2006 Unmolested original & sadly missed)
1987 S124 230TE Diamond Blue (2002-2007 Family cruiser)
1983 W126 280SE Champagne 106k Klms (Custodian in 2013)
1969 W113 280SL Champagne (Custodian in 2000)
1988 W124 300E Diamond Blue (2016 project sold to fellow OzBenzer)
---
B Class
Posts: 20
Joined: Wed 18 Feb, 2015 1:42 am
Model you own: w124
Location: Brisbane Australia
I'm looking for small body parts, I'm in Brisbane, looks like you in Victoria.... Can you post?

Sent from my GT-N7105 using Tapatalk
---
300 SLR
Posts: 1753
Joined: Wed 20 Jul, 2005 12:54 pm
Model you own: w123
Region: Victoria
Location: Melbourne
crazycrowbar wrote:I'm looking for small body parts, I'm in Brisbane, looks like you in Victoria.... Can you post?

Sent from my GT-N7105 using Tapatalk
Yes, no problem, I'll send you a PM with my contact details
Current Fleet
1985 C123 280CE Midnight Blue with blue MB Tex (249k klms...Daily Driver 2010- )
Past Benzes:
1972 W108 280SE 3.5 White (2002-2003 project sold to fellow OzBenzer)
1971 W108 280SE 3.5 White (1999-2006 Unmolested original & sadly missed)
1987 S124 230TE Diamond Blue (2002-2007 Family cruiser)
1983 W126 280SE Champagne 106k Klms (Custodian in 2013)
1969 W113 280SL Champagne (Custodian in 2000)
1988 W124 300E Diamond Blue (2016 project sold to fellow OzBenzer)
---
B Class
Posts: 20
Joined: Wed 18 Feb, 2015 1:42 am
Model you own: w124
Location: Brisbane Australia
[THUMBS UP SIGN]

Sent from my GT-N7105 using Tapatalk
---
300 SLR
Posts: 1753
Joined: Wed 20 Jul, 2005 12:54 pm
Model you own: w123
Region: Victoria
Location: Melbourne
Hi All,

The 1988 Diamond Blue 300E has now been sold to a fellow-OzBenzer, so if anyone wants parts off the 1987 Maroon 300E, please let me know before I either put the shell on fleabay or sell to a wrecker.

Car is missing:
Engine
Trans
Front Seats
Bonnet
Front Guards
Headlights
Front Indicators

But rest of it is available so please PM me, if interested.

Cheers

Mark
Current Fleet
1985 C123 280CE Midnight Blue with blue MB Tex (249k klms...Daily Driver 2010- )
Past Benzes:
1972 W108 280SE 3.5 White (2002-2003 project sold to fellow OzBenzer)
1971 W108 280SE 3.5 White (1999-2006 Unmolested original & sadly missed)
1987 S124 230TE Diamond Blue (2002-2007 Family cruiser)
1983 W126 280SE Champagne 106k Klms (Custodian in 2013)
1969 W113 280SL Champagne (Custodian in 2000)
1988 W124 300E Diamond Blue (2016 project sold to fellow OzBenzer)
---